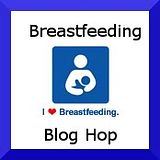 I came across this blog hop late on Wednesday night (or was it early Thursday morning?). I had a recent relevant post, so I linked up. (Sorry, ladies, I only followed half of your guidelines. I was almost asleep and too worn out to process them all. I'll be more careful next time, I promise.)
What can I say, this is definitely not one of those 'Follow me and I'll follow you back' blog hops. The other blog-hoppers visited to read what I had to say and not just to boost traffic to their own blogs. They left thoughtful comments and had heartwarming stories of their own to share. There is one blogger in particular I'd like to mention here: Wendy, like me, has written on breastfeeding a toddler in public, but she's gone a few steps further in exploring her feelings and her post touched me on so many levels.
If breastfeeding is a topic close to your heart, I'd encourage you to link up, share your experience and get some support from like-minded mums.
(The linky is closing soon for this week, but if you miss out there is always next time, right?)